BRIGHTSTARR
COMPLETED PROJECT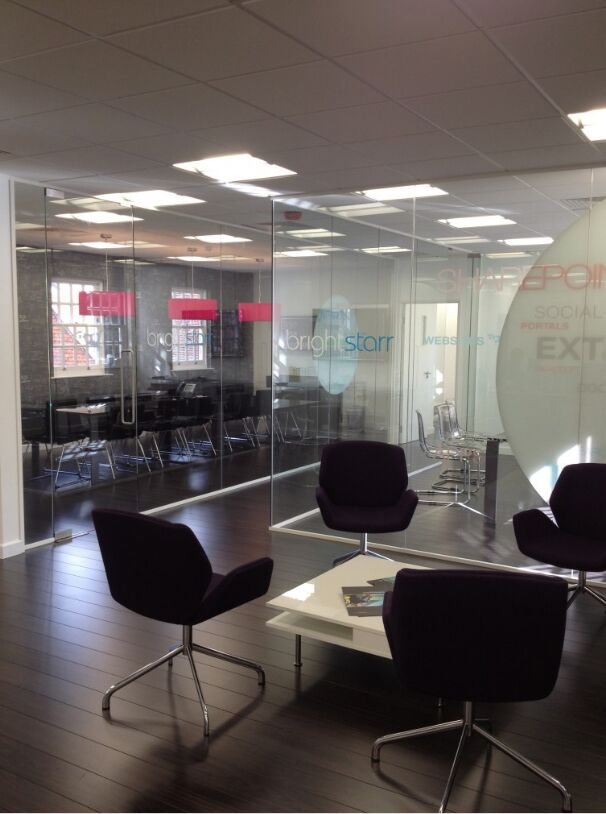 CONCEPT DESIGN
Please click to enlarge.
How to create an enticing space which reflects company values
The Client Brief
BrightStarr is an award-winning technology consultancy that has been working with clients to build digital workplaces, platforms and tools on Microsoft technology for over ten years, to help employees do their very best work every day.
We were consulted about a measured site survey and space planning. The brief was to design an open plan office, with a new kitchen, a boardroom, executive glass offices and an informal reception area. The design needed to be funky and show what a fun place it was to work in.
Funky and fun
We used a bold colour scheme, glass partitions and black and transparent offbeat furniture to create the funky and fun look. We were happy to break the mould and give free rein to our imagination. This was designed to be a futuristic office.
The office furniture was flexible so that the office can be rearranged to accommodate varying team sizes with minimal fuss or impact to the work environment.
Bright and vibrant
The kitchen doubled as a central hub area. It was an area to relax and chill or collaborate. The walls were original. There was a lot of natural light coming in from large windows and between glass partitioned rooms. It was a bright and energy efficient workplace.
We wanted the whole office design to reflect BrightStarr's passion for technology and a futuristic world: we even gave staff the opportunity to really make the office their own.
A changed world
The client was overjoyed after we successfully designed all the required rooms and transformed a whole environment. Staff are now highly motivated to maximise their potential and give it their best shot every day. Their new funky offices reflect what they believe in: to help drive change with technology.
Let us transform your office